Battle of the Sexes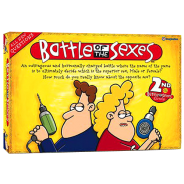 Is it survival of the fittest? Or a continuing saga of the missing rib?
 Why is it that women are always referred to as the better half? 
Why is it that men never ask for directions and women are always giving them?
Why, why, why???
After being married for 40 years, I took a careful look at my wife one day and said, "Forty years ago we had a cheap house, a junk car, slept on a sofa bed and watched a 10-inch black and white...
read more