Things only a gal can relate to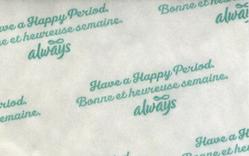 From PMSing to coordinating our outfts to arranging the furniture, its all about sugar and spice and everything nice . . .  at least for most of the month
.
.
.
.
How many animals can you fit into a pair of Pantyhose???  Now, think about it………….. Ready? Answer: 10 little piggies, 2 calves, 1 ass, 1 beaver, an unknown number of hares,...
read more
   *Martha's Way* Stuff a miniature marshmallow in the bottom of a sugar cone to prevent ice cream drips.    *Maxine's Way * Just suck the ice cream out of the bottom of the...
read more
My mother was a fanatic about public toilets. As a little girl, she'd bring me in the stall, teach me to wad up toilet paper and wipe the seat.  Then, she'd carefully lay strips of...
read more
This is is an actual letter from an Austin, Texas woman sent to Proctor and Gamble regarding one of their feminine products. She really gets rolling after the first paragraph. This was PC...
read more
FOR ALL THE MEN, IN OUR LIVES, WHO ASK: "WHAT TOOK YOU SO LONG?"       When you have to visit a public bathroom, you usually find a line of women, so...
read more