Battle of the Sexes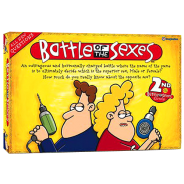 Is it survival of the fittest? Or a continuing saga of the missing rib?
 Why is it that women are always referred to as the better half? 
Why is it that men never ask for directions and women are always giving them?
Why, why, why???
Every one of those little blue balls is a thought about something that needs to be done, a decision or a problem that needs to be solved. Good thing a man's brain requires only two...
read more